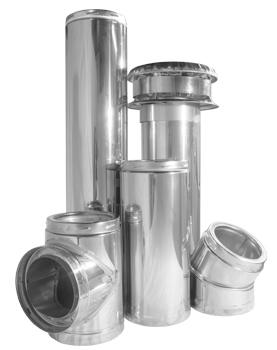 APPLICATIONS
The ASHT+, with its double-wall all-stainless-steel chimney and exclusive Secure Plus insulation, minimizes heat loss through the chimney walls, and can withstand the intense heat. The free-floating inner lining is attached only to the male coupler at the top, expanding and contracting freely with temperature fluctuations. The external casing of the Secure Temp ASHT+ carries the structural load.
CERTIFICATION
The Secure Temp ASHT+ high-temperature chimney is certified by Intertek Testing (Warnock Hersey) to UL-103HT standards for all diameters of 5, 6, 7, 8 and 10 inches. Secure Temp ASHT+ has a temperature rating of 650°C (1200°F); max. continuous, 760°C (1400°F) brief forced fired; and 1150°C (2100°F) 3 x 30 minutes, tested.
A TRADITION OF EXCELLENCE
Security Chimneys has been an innovator in the venting field and a market leader in North America since 1960. Instrumental in the company's growth has been an ongoing focus on product improvement and the introduction of innovative products. This drive for excellence has given rise to the Secure Temp ASHT+, one of the most popular lines of venting products in North America. This high-quality product ensures that end-users benefit
from maximum safety and proven corrosion protection.
INNOVATIVE COMPOSITION
The use of stainless steel, selected for its resistance to high temperatures and corrosion, lends outstanding durability to the Secure Temp ASHT+ high-temperature chimneys. All chimneys feature 1 inch of superior-quality, high-density Secura Plus insulation. This exclusive insulationg keeps the temperature of the outer casing relatively low, keeping safety features as simple as possible.
INSTALLATION HAS NEVER BEEN EASIER
Twist-Lock stainless steel coupler system with 1-inch overlap
Stainless steel inner lining
One inch of exclusive Secura Plus insulation
Fast venting of combustion products
Stainless steel outer casing
Inner liner attached only to the male coupler
Lightweight – 6-inch diameter, 5.2 lb. per linear foot
Twist-lock assembly for fast, easy and secure installation—no screws or other attachments required
Double-lapped flue seam provides radial expansion with the highest level of durability
Smooth finish for safe handling during installation
Secura Plus™ insulation, pressure-packed to increase flue temperatures for faster start-up, better draft and improved performance
Available in 5″ to 10″ inside diameters
2″ safety clearance from combustible materials
Available in 8″, 12″, 18″, 24″, 36″ and 48″ lengths
All installation accessories made from aluminum-zinc coated steel to prevent rusting
Lengths also available in aluminum-zinc coated steel exterior casing for cost savings
Tested and listed to UL-103HT
Limited lifetime warranty

Have a question about this product?