SECURE SEAL (26″-36″ DIA.)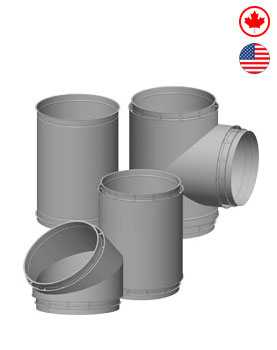 Single-Wall, Double-Wall 26" to 36" diameter. Special Gas Vent. Listed to UL 1738 and ULC S636.
Applications
Category I, II, III and IV gas-fired appliances.
Type BH gas vent systems for appliances having a maximum flue temperature of 480ºF.
May also be used for high-efficiency gas boilers, furnaces, booster heaters, pool heaters, water heaters, unit heaters or tankless water heaters.
No need to apply silicone on-site at section joint; each joint seals with our Viton® O-ring system, a non-silicone construction designed to withstand the corrosive nature of the condensate.
Materials and Construction
Inner Wall: 26" to 36" 29-4C® (0.035")
Outer Wall: 26" to 36", 441 (0.024")
Diameters
26″-36″
Listings
Tested and listed to UL 1738 and ULC S636.